Success Quotes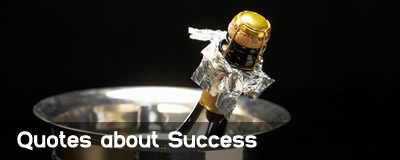 What separates the winners from the losers is how a person reacts to each new twist of fate.
Abundance is, in large part, an attitude.
A great secret of success is to go through life as a man who never gets used up.
A great business success was probably never attained by chasing the dollar, but is due to pride in one's work – the pride that makes business an art.
Your chances of success in any undertaking can always be measured by your belief in yourself.
You've achieved success in your field when you don't know whether what you're doing is work or play.
You might well remember that nothing can bring you success but yourself.
A man is a success if he gets up in the morning and gets to bed at night, and in between he does what he wants to do.
Be yourself. Follow your instincts. Success depends, at least in part, on the ability to 'carry it off'.
Constant success shows us but one side of the world; adversity brings out the reverse of the picture.
Develop success from failures. Discouragement and failure are two of the surest stepping stones to success.
The dictionary is the only place that success comes before work. Hard work is the price we must pay for success. I think you can accomplish anything if you're willing to pay the price.
A successful man is one who can lay a firm foundation with the bricks others have thrown at him.
A winner is someone who recognizes his God-given talents, works his tail off to develop them into skills, and uses these skills to accomplish these goals.
All great achievements require time.
All that a man achieves and all that he fails to achieve is the direct result of his own thoughts.
Dissatisfaction with possession and achievement is one of the requisites to further achievement.
Do something wonderful, people may imitate it.
If you fear making anyone mad, then you ultimately probe for the lowest common denominator of human achievement.
If you want to reach a goal, you must 'see the reaching' in your own mind before you actually arrive at the goal.