Relationship Quotes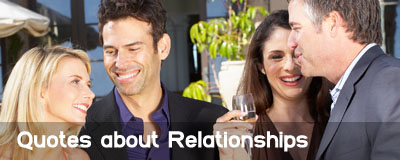 A real friend is one who walks in when the rest of the world walks out.
Absence from those we love is self from self – a deadly banishment.
A false friend and a shadow attend only while the sun shines.
A friend is a gift you give yourself.
A friend is one before whom I may think aloud.
A friend is someone who lets you have total freedom to be yourself.
A friend is someone who sees through you and still enjoys the view.
A friend might well be reckoned the masterpiece of nature.
A friend should bear his friend's infirmities.
A friendship that can end never really began.
A good friend is better than a near relation.
A lost friendship is an enemy won.
When we seek to discover the best in others, we somehow bring out the best in ourselves.
You are the same today that you are going to be in five years from now except for two things: the people with whom you associate and the books that you read.
When you are in conflict with someone, there is one factor that can make the difference between damaging your relationship and deepening it. That factor is attitude.
We don't get to know people when they come to us; we must go to them to find out what they are like.
Even the wisest men make fools of themselves about women, and even the most foolish women are wise about men.
Each contact with a human being is so rare, so precious, one should preserve it.
Death ends a life, not a relationship.
Be polite to all, but intimate with few.