Happiness Quotes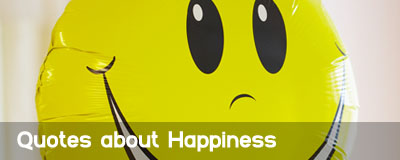 Most folks are as happy as they make up their minds to be.
Some cause happiness wherever they go; others whenever they go.
Don't wait around for other people to be happy for you. Any happiness you get, you've got to make yourself.
Try not to become a man. of success but a man of value
A happy person is not a person in a certain set of circumstances, but rather a person with a certain set of attitudes.
A man is happy so long as he chooses to be happy and nothing can stop him.
A well-spent day brings happy sleep.
Action may not always bring happiness; but there is no happiness without action.
All happiness is in the mind.
All who would win joy, must share it; happiness was born a twin.
Allow children to be happy in their own way, for what better way will they find?
Agreeable society is the first essential in constituting the happiness and of course the value of our existence.
All happiness depends on a leisurely breakfast.
All that we are is the result of what we have thought.
Always leave something to wish for; otherwise you will be miserable from your very happiness.
Anything you're good at contributes to your happiness.
As a well spent day brings happy sleep, so a life well spent brings happy death.
Be happy. It's one way of being wise.
Be more dedicated to making solid achievements than in running after swift but synthetic happiness.
Being nice is one of the many bridges on the road to happiness.