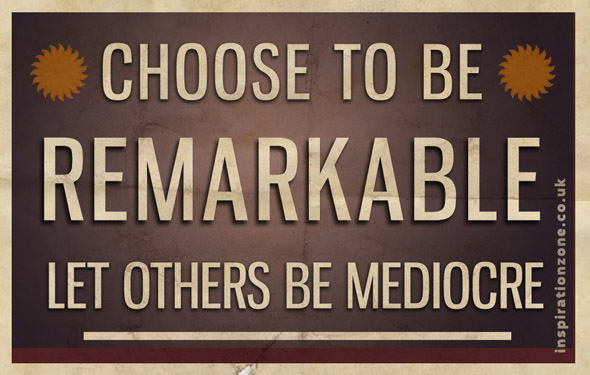 Mediocrity is simply not an option if you want to live a life of success. Nobody remembers the guy who stood next to Muhammad Ali, Marie Curie or Genghis Khan. Nobody remembers the people who didn't discover the structure of DNA. So how do you stand out? Here are 3 great ways to be remarkable.
Insist on Excellence
Mediocrity is all about settling for second best. If you want to be remarkable, you have to insist on excellence from yourself. Nobody ever recommended the second-best heart surgeon to their friends. Be the best you can be. Then get better.
Don't Be Afraid to Make Enemies
Being remarkable means standing out. If I've learned anything in recent years it's that standing out and insisting on the very best from yourself attracts people that oppose you. Accept that by being your remarkable self you will attract the attention of those who are threatened or intimidated by your strength and positive attitude. This is inevitable. Rise above their issues and remember that when you spot them, it means you're getting it right.[Tweet "When you attract negative critics, it means you're getting things right. #inspiration"]
Keep Improving
It's easy to talk about being the best and insisting on excellence. But it's impossible without at least two key factors. Enormous quantities of hard work, and a dedication to continual self-improvement.
The Next Step
There are all kinds of ways to be remarkable, of course. You could dress in an outfit made of raw meat, like Lady Gaga, or you could practise your craft for as long as it takes to be the best. Malcolm Gladwell tells us that this could take at least 10,000 hours. You'd better get started.